A Simple Three-Part Plan to Upgrade Your Site + Attract Your Dream Clients
Did you know according to Statisticbrain.com, eight seconds is the average person's attention span and only 28 percent of words are read on an average website?
This means now more than ever, we need to capture viewers' attention quickly for them to stick around and engage with our site.
You may have the most beautiful images or eloquent words but does it attract and hook your current dream client? As your business evolves, your dream client does too. Websites aren't meant to "set and forget". Sometimes we need to take some time to update how we're showing up in order to capture those dream clients.
We want to help you structure your website so you can convert more visitors into paying customers. That's why we're sharing a simple three-part plan to upgrade your site and attract your dream clients. Let's dive in!
Your Vitals: Structure & Priorities
Where does your eye go first?
Effective Headline
This is the first thing they see before they scroll (or at least it should be), it's gotta be good!
After Headline "Hafta-Haves"
CTA's: What's the primary goal?
Logo: Identify your brand
Menu: Easy navigation
Lead Magnet: Something of value
Services: What do you offer?
About: They want to meet you
Social Proof: What you do helps people
After Headline Bonuses
Welcome Video: Helps make a connection
Social Media Links + Feed: Make it easy to creep on you
Blog/Podcast: Give 'em more goodness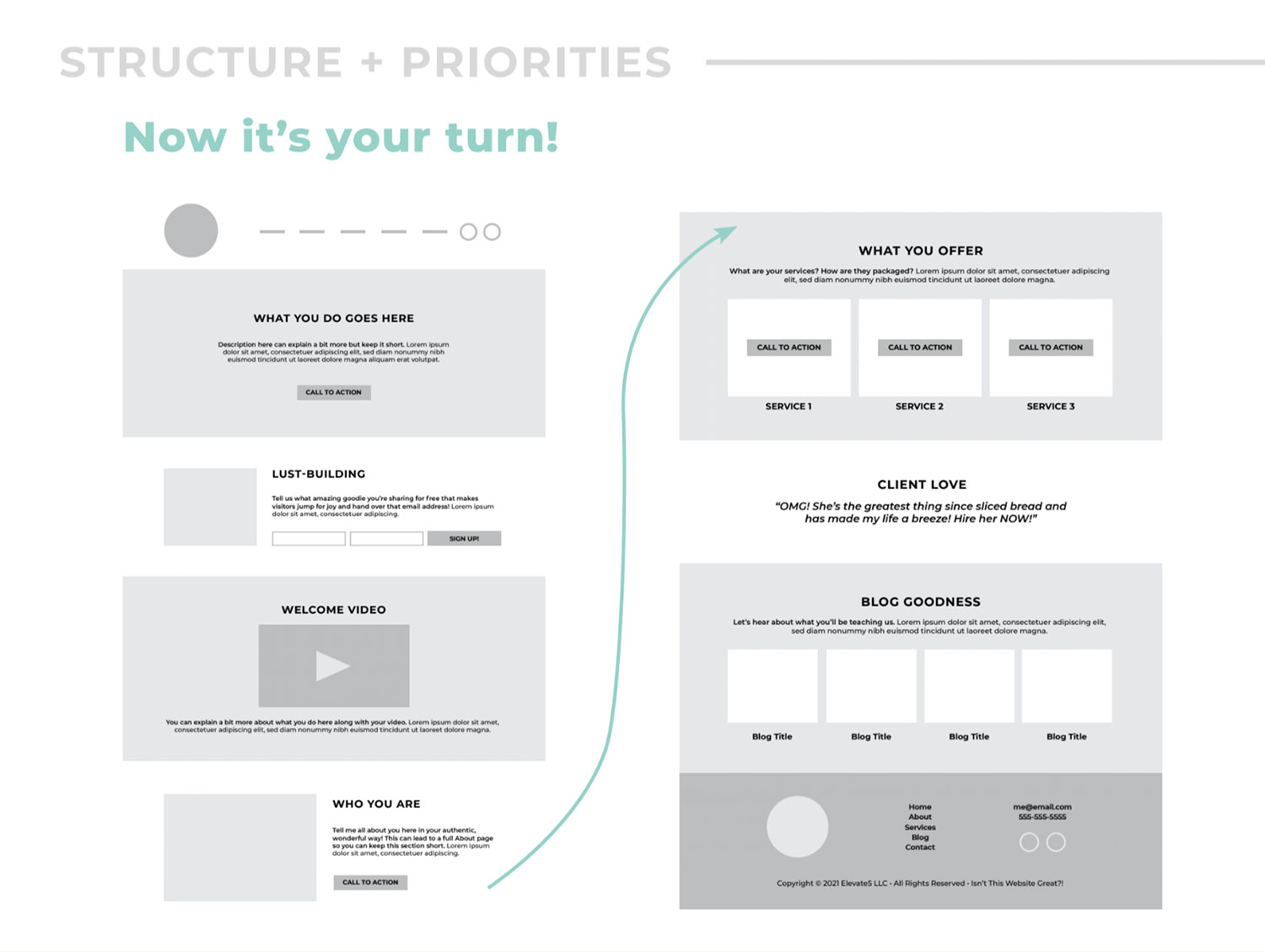 Your Visuals: Design & Imagery
Does the design reflect authentic you?
Authentic Branding
Logo
Colors
Photos
Spacing
Brand Vibe
How would you describe your brand? For example, is it bold, luxurious, and witty? Or is it joyful, loving, and loyal? Find your vibe and run with it.
Brand Style + Mood: Align your visuals with your vibe
Are you modern or traditional?
More feminine or masculine?
More playful or serious?
More economical or luxurious?
More youthful or mature?
More minimal or decorative?
Your Voice: Tone & Message
Does the messaging and tone sound like you?
How You Say It
It should be like a small version of you is showing up on their shoulder speaking directly to them. It should not only create connection but it should resonate.
What You Say
Effective Headline: What you do + why they care
After Headline Hafta-haves: Keep them informed + interested
Tips for an effective headline:
Your audience is the hero, you are their guide
Keep it short – anywhere from 6-12 words
Effectively use keywords for searchability (Hint: don't worry about the buzzwords)
Placement – it's the first thing seen without scrolling!
Be specific and descriptive with adjectives
Test variations – what resonates with your audience more?
Your Website Should Be Working for You Even When You Aren't
We promise it's NOT too good to be true. Your website (especially your homepage) is one of the most powerful tools in your business. It's your 24/7 salesperson. Even if you aren't actively giving out your URL, people are still searching and finding you online.
Are you showing up in a way that captures those leads?
Take a deep dive into your home page and review these three things. If you need to take this off your plate, we've got you covered. Reach out to us to schedule your complimentary 30-minute Website and Branding Session so that you can fall in love with your website again!